Welcome to the AGE OF THE CUSTOMER
Starting now, we have shifted into a fundamentally new age, the age of the customer. The companies who will succeed, dominate, and own the market for the next several decades will be those who truly learn how to understand their customers and engage in meaningful ways.
Like it or not, you are competing with Starbucks, Lulu Lemon and Apple. We have seen a handful of leaders who are setting new standards and when your customers interact with Apple or Disney, these companies are resetting your customers' expectations for the type of experiences that they think they deserve and that they are entitled to have with your company. And if they don't get what they expect, you will hear about it in very public ways. Customers today have more power than ever and in homebuilding, most businesses are localized and do not extend borders. What that means is, no matter how successful your company has been, if your customers are not receiving what you promised them, your brand may not survive the market you are in.
For New Home Builders and Renovators
The voice of your customer is more powerful than ever before. High performing companies understand the importance of providing unique and innovative strategies to stay close to their customers. The H.O.M.E. Certification Program is a third party endorsement which highlights those builders and renovators who understand their customers are the core of their business. With the H.O.M.E. Certification, your company will be recognized as one who has adopted a customer centric approach.
How can you participate in the H.O.M.E. Certification?
This is unlike any other industry or peer program. The process for determining H.O.M.E. Certified Builders and award winners is transparent to all and you can monitor your progress throughout the year.
Throughout the year, CustomerInsightTM tabulates two customer reviews, (30-day post possession and 13-month post-possession), and provides real-time, online access to homebuilding/renovation staff. Each company is evaluated based on customer satisfaction of product, service, and process. Response rates and total number of surveys received will be evaluated to ensure statistical validity by a CustomerInsightTM statistician and research analyst.
Participating homebuilding/renovation companies and their trade partners are committed to the following program requirements:
*

Customer

Insight

TM

will administer 2 performance reviews of all customers at 30 days post possession and 13 months post-possession for a full year. Results to be posted real-time on H.O.M.E. Website
**Transparent customer feedback and comments populate the H.O.M.E. Website.H.O.M.E. logo and link to appear on Builders'website.
*Required programs at the expense of participating builder.
**Profanities, use of names and reference to pricing is not permitted, strictly prohibited and will be removed.
The Home Owner Mark of Excellence Certification is designed to provide potential buyers and homeowners peace of mind that the builder is invested in continual improvement and that the customer, comes first.
Qualifying builders who have successfully achieved H.O.M.E. Certification will have:
A superior score of 75% Overall Customer Experience throughout the three builder reviews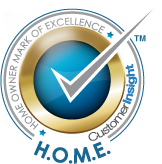 H.O.M.E. GOLD
Of those certified builders, CustomerInsightTM awards H.O.M.E. Gold to the best performing customer-certified company. Includes many benefits:
H.O.M.E. Website promotion
H.O.M.E. GOLD Trophy for sales centre(s)
Unlimited use of brand throughout the year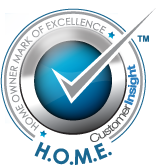 H.O.M.E. PLATINUM
For those Industry leading companies who are looking to strive for greatness. H.O.M.E Platinum was designed for builders/renovators who understand that 'Customer' is more than the purchaser. Customer includes the employees and trade/supply partners. Requirements for this program include:
A superior score of 80% Overall Customer Experience Score throughout the three builder reviews.
A superior score of 80% Overall Employee and Trade Scores annually
Of the platinum certified builders, CustomerInsightTM will award one best performing company with H.O.M.E. Platinum.