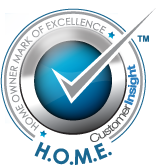 H.O.M.E. PLATINUM
For those Industry leading companies who are looking to strive for greatness. H.O.M.E Platinum was designed for builders/renovators who understand that 'Customer' is more than the purchaser. Customer includes the employees and trade/supply partners. Requirements for this program include:
A minimum of 80% Overall Customer Experience Score throughout the two builder reviews.
A minimum of 80% Overall Employee and Trade Scores annually
Of the platinum certified builders, CustomerInsightTM will award one best performing company with H.O.M.E. Platinum.